THE FREEDOM TO CREATE WITH THE SUPPORT TO GROW YOUR TALENT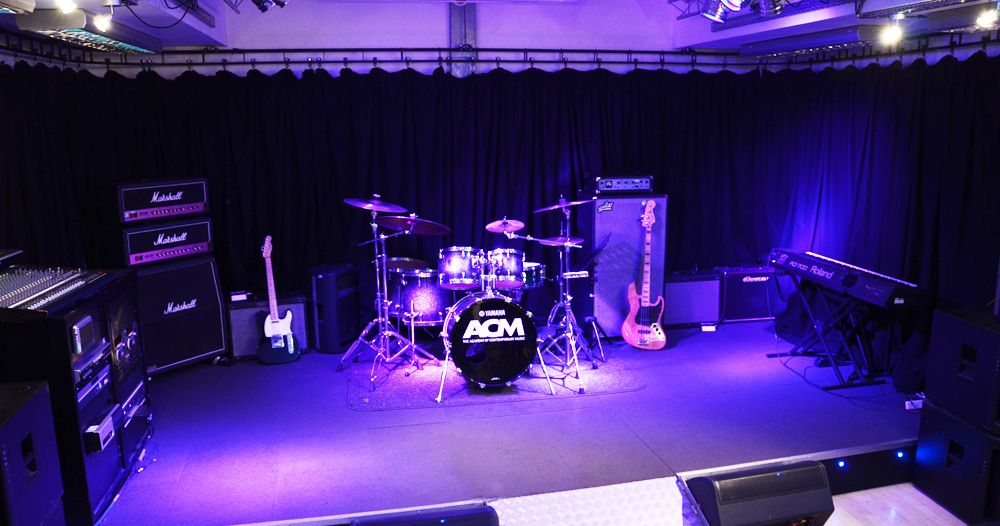 What do you need when you're choosing a practice space / rehearsal studio for your band?  How about a clean and secure location that is convenient to major transportation routes?  One that's open 24 hours a day, 7 days a week, and 365 days a year, with plenty of on-site paved parking with easy load ins/outs.  A place you can just make a call, get here, and ROCK ON!  That's an accurate description of the band rehearsal spaces at Frederick Recording Studio!!
---
All Of Our Monthly Rehearsal Rooms Feature:
24/7/365 Availability
Easy Access to I70, 270
Professional Security Systems with Indoor & Outdoor Coverage
Plenty of Private Parking Available
Bay Doors - Easy Load In/Outs
Each Rehearsal Space has Individual Security Measures
Heating / Cooling
Hourly Rehearsals on The Performace Stage:
Additionally, our facilities boast a Performance Venue!! The Stage available for rehearsals at a budget-friendly hourly rate. 
The large room features a design which feels like a small club with tables and a lounge area....you just might want to hang out here all day!
The starter package runs $100 for a 4-hour session and includes 4 microphones/stands and a PA system perfect for electronic instruments and singers. 
Additional time is just $20 per hour.  A house drum kit is available for $25 for each booking.  Supplemental microphones and up a 16-channel mixer are also available for an additional fee.  
We can also record your rehearsal to multi-track and/or a performance stereo mix.
Contact for rates. 
Full day and weekly lock-outs are also available – contact for details
Would you like a video of your rehearsals or performances? We can arrange that as well! – contact for details